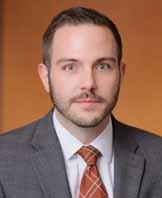 275 Madison Avenue
26th Floor
New York, New York 10016
Phone: 212.297.0700 ext 102
Fax: 212.297.0730
My Current Practice
My practice touches all aspects of long term disability and life insurance claims, including litigation matters, administrative appeals, alternative dispute resolution, and claims-level advocacy. The detailed guidance and aggressive tactics I provide are designed to obtain the best possible outcome.
How I Help Our Clients
I pride myself in being a creative, pragmatic, and flexible planner with an eye for detail. These characteristics have enabled me to maximize my clients' coverage in the face of incredible obstacles.
But I also pride myself on being tenacious and dogged. Humans evolved as persistence hunters. We were not always able to run fast, but we could keep running longer. Insurance companies use this same strategy. They hope that if they make it difficult to prove that you are disabled by asking for more forms, more evidence, more examinations, you will give up. I don't give up. I keep running.
I love being able to help my clients every day. Here are just a few examples of recent successes that have gotten me really excited:
My client, a trader, suffered from multiple hearing-related issues. The insurer did not understand that the client's workplace – a trading floor – was loud and raucous. Through the insurer's appeal process, I reversed the insurer's termination of benefits.

My client, a physician, had severe pain issues that led him to decrease his productivity. The insurance company approved his claim, but it miscalculated his benefits. I sued the company in federal court. Due to our efforts, the insurance company paid him back benefits and increased his benefits going forward.

My client, a partner at a major law firm, suffered from vision issues. I guided him as he left his job. We were able to protect disability benefits that he and his firm had paid for with their insurance premiums.
What I Find Most Rewarding About My Work
I was initially drawn to this practice because of my deep desire to protect others. Specifically, I wanted to help vulnerable people when they needed it most. Since joining the firm, helping each client has helped me fulfill that need. Knowing that we deliver peace of mind and full-service protection to our clients brings me satisfaction and joy. No matter the situation, I know we can handle it. Whether it is filing a disability claim, providing ongoing updates to an insurer, filing an administrative appeal, or filing a lawsuit – we have our clients covered.
My Background
My background reflects broad experience handling high stakes and complex legal matters. Over the years, I've provided counseling and advice to public and private companies, executives, and directors. I've also aggressively litigated at all levels of state and federal courts, including several complex class action proceedings.
I graduated with honors from Georgetown University in Washington, DC. I also graduated with honors from the University of Michigan Law School where I was a book review editor for the Michigan Law Review. Books – especially political biographies, histories, and thrillers – continue to be a passion of mine.
What I Enjoy Doing for Fun
I love biking – I biked over 3,000 miles last year.

I also spend a lot time reading and watching Netflix with my tiny chihuahua named Mabel on my lap.

And I love college football and basketball – Go Blue!
Jurisdictions Admitted
New York State Courts

United States District Court for the Southern District of New York

United States District Court for the Eastern District of New York

U.S. Court of Appeals for the Second Circuit
Contact our New York Disability Lawyers
If you are in need of a lawyer to represent you or if you have any questions regarding a case, contact our New York Disability Lawyers. Call us at 212-297-0700.