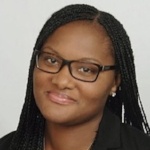 Phone: 212.297.0700 ext 105
Fax: 212.297.0730
How I Help Our Clients
As a paralegal, I help clients navigate various aspects of a disability claim. I work closely with our attorneys to execute a strategy that will ultimately result in a favorable determination on the case. In this role, I advocate in favor of and support of clients during the most stressful and difficult periods in their lives.
What I Find Most Rewarding About My Work
The most rewarding aspect of my work is having the opportunity to be a positive influence in someone else's life. It is extremely rewarding to help, guide and advocate for others. I enjoy working with clients from the initial stages of the claim to monitoring benefits after one's approval. It is greatly gratifying to be of service to others.
My Background
My professional background is primarily based on social services and assisting others to secure benefits and entitlements. Certain life experiences have inspired my concentration in public welfare and to help those in need. As a result, I sought to pursue a career in which I could work with clients, and their families to maintain and secure financial security, benefits and a better quality of life.
What I Enjoy Doing for Fun
I enjoy spending time with my family and friends on the weekend. I also enjoy going to basketball, football games, being outdoors and traveling.
Contact our New York Disability Lawyers
If you are in need of a lawyer to represent you or if you have any questions regarding a case, contact our New York Disability Lawyers. Call us at 212-297-0700.