Our NYC disability attorneys provide 5-star protection against unscrupulous insurer tactics nationwide.
When you hire Riemer Hess, we will formulate a 5-star strategy for monitoring and protecting your ongoing monthly disability benefits. We listen to your needs and concerns to make the process as easy and stress-free as possible. We know the last thing you need is the stress of dealing with an insurance company. We have honed a proven claims monitoring strategy that reduces the burden on you, both financially and emotionally.
Many claimants make the mistake of assuming that once they've been approved for long term disability benefits, their ongoing benefits are secure. However, insurance companies will require ongoing proof of your disability status to continue benefit payments. This can include frequent requests for updated medical records, physician questionnaires, or undergoing a so-called "independent" medical examination. The insurance companies often use tactics to justify terminating benefits if you don't jump through the right hoops. They look for any excuse to terminate benefits.
The insurers also spend millions of dollars each year to spy on people receiving long term disability benefits. By performing video, photograph, and online surveillance, these insurers hope to "catch" you performing activities that could be used to justify benefit termination.
As a firm of ERISA and long term disability lawyers based in New York City, we have been successfully protecting the benefits of professional and executive clients for over 25 years. We protect tens of millions of dollars in benefits each year, and our experienced disability attorneys can help you avoid the many obstacles and traps imposed by long term disability insurance companies.
How We Protect Long Term Disability Benefits:
Our comprehensive approach to protecting ongoing disability benefits includes:
Taking control of the flow of information;
Completing all periodic update forms with your input, where necessary;
Carefully screening all attending physician forms;
Advising you on any return to work or volunteering activities;
Preparing you for any form of testing necessary to support your ongoing claim;
Preparing you for all insurance company interviews and medical examinations;
Providing valuable advice and counsel with respect to ongoing disability benefits; and
Providing comprehensive support from your dedicated legal team when needed.
Our Flat Fee Options
With Riemer Hess, you won't need to worry about the variability and uncertainty of the legal costs necessary to protect your disability benefits. We offer options to cover your legal needs for one flat annual fee, regardless of what the insurance company throws at you. Contact Riemer Hess today and let us help you protect your ongoing disability benefits.
Watch: More About How We Protect Ongoing Benefits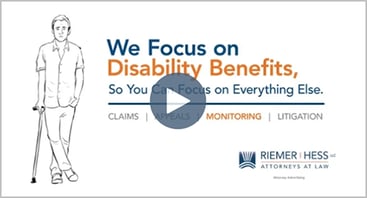 Read: Disability Benefit Protection Case Study
Peter, a 34-year-old business consultant at a global management firm, contracted Lyme disease during a camping trip, which caused symptoms that affected his ability to work. After filing for long term disability and receiving approval for his claim, Peter faced ongoing harassment from his insurance company, which repeatedly requested updated medical records and forms.
When the insurance company demanded that Peter submit to a so-called "independent" medical examination after receiving only eight months of benefit payments, he contacted Riemer Hess for help. The firm carefully reviewed Peter's disability policy and developed a clear strategy to protect his benefits and stop the insurance company from demanding the examination.
On Peter's behalf, Riemer Hess:
Contacted the insurance company to let them know that Peter had hired representation;
Told the insurance company to delay the independent medical examination by explaining that additional medical evidence was forthcoming
Scheduled Peter to undergo a Functional Capacity Evaluation (FCE) immediately;
Thoroughly prepared Peter for the FCE;
Obtained and reviewed the FCE to ensure it was supportive;
Obtained a statement from Peter's treating physician, commenting on the FCE and confirming Peter's ongoing disability;
Submitted the FCE and treating physician statement to the insurance company; and

Demanded the insurance company back down from rescheduling the examination.
Riemer Hess' strategy was successful. The insurance company backed down and continued to pay Peter his monthly benefit. Peter was relieved and grateful for the firm's assistance and decided to retain Riemer Hess to continue monitoring his disability insurance benefits.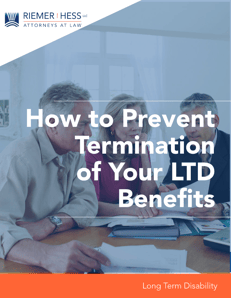 Call Today to help protect your benefits
Disability insurance claims can be complex and confusing, even after your claim is approved. The lawyers at Riemer Hess are here to assess your situation, carefully guide you through the process, and do what it takes to protect your ongoing long term disability benefits. To schedule your consultation, contact Riemer Hess today at 212-297-0700 or click the button below to schedule your exploratory call.