If you are receiving disability benefits but worry your long term disability insurance company might terminate your claim, our Benefits Protection Program can help give you peace of mind.
Riemer Hess, a firm of ERISA and long term disability lawyers based in New York City, has been successfully representing professional and executive clients like yourself for over 25 years. Our disability attorneys protect tens of millions of dollars in benefits each year.
What's more, we will cover all your legal needs for one flat annual fee, regardless of what the insurance company throws at you. You never need to worry about the variability and uncertainty of the legal costs necessary to protect your disability benefits.
Benefits Protection Program
When you hire the disability attorneys at Riemer Hess, we sit down with you and formulate a customized strategy for monitoring and maintaining your disability benefits. We listen to your needs and concerns so we can make the process as easy and stress-free as possible.
After 25 years of practice, Riemer Hess has honed a claims monitoring strategy that is successful and reduces the burden on you, both financially and emotionally. For a flat yearly fee, here are some of the things we do for you:
We control the flow of information by insisting that the insurer communicates only with us.

We complete all periodic update forms sent by the insurer.

We screen all attending physician forms completed by your treating physicians.

We advise you on any return to work or volunteering activities you choose to pursue so you understand how they may impact your benefits.

We prepare you for any form of testing necessary for your disability claim, such as functional capacity evaluations (FCE), cardio-pulmonary testing (CPET), neuropsychological evaluations, and vocational evaluations.

We prepare you for and attend all insurance company interviews. We have been through hundreds of such interviews and, therefore, can reasonably anticipate most of the questions.

We prepare you for all insurance company medical examinations, including hiring a nurse to attend with you if appropriate.

We provide advice and counsel with respect to ongoing disability benefits.

We provide comprehensive support from your dedicated legal team when needed.
With our comprehensive approach, we take the stress off of you and help you avoid the many obstacles and traps imposed by the long term disability insurance company.
How Riemer Hess Can Help
Many claimants make the mistake of assuming that once they've been approved for long term disability benefits, they don't need to be concerned. However, insurance companies will require ongoing proof of your disability status in order to continue benefit payments. This can include frequent requests for updated medical records, physician questionnaires, or undergoing an independent medical examination ("IME"), where you are examined by one of the insurance company's doctors. The insurance companies often use tactics to justify terminating benefits if you don't jump through the right hoops.
The experienced long term disability attorneys at Riemer Hess will monitor and protect your ongoing disability benefits. Our approach has helped hundreds of executive and professional clients.
Below is an example of how Riemer Hess protected one client's disability benefits:
Client Case Study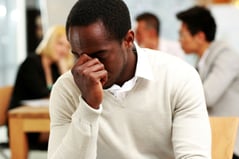 Peter is a 34-year-old business consultant at a prestigious global management firm, where he had been working since earning his MBA a few years ago. Unfortunately, Peter contracted Lyme disease during a camping trip.
He quickly developed debilitating symptoms, despite aggressive treatment and hospitalizations. He was exhausted and achy all the time – often lacking the energy necessary to get out of bed. He also experienced cognitive problems affecting his memory and speed of thinking.
Upon the advice of his doctors, Peter stopped working and filed for long term disability. Thankfully, his claim was approved. But, it wasn't long before the insurance company began hassling Peter for updated evidence of an ongoing disability.
Month after month, the insurance company requested more and more medical records and forms from Peter's doctors. Then, after paying benefits for just 8 months, the insurance company demanded Peter submit to an independent medical examination.
Cautious by nature, Peter wasn't going to see one of the insurance company's biased doctors without talking to an attorney first. So, he contacted Riemer Hess.
After carefully reviewing Peter's long term disability policy, Riemer Hess met with Peter to discuss how they could help. We developed a clear strategy to protect Peter's benefits and make the insurance company back down from its independent examination demand.
On Peter's behalf, Riemer Hess:
Contacted the insurance company to let them know Peter hired representation;
Told the insurance company to delay the independent medication examination by explaining that additional medical evidence is forthcoming;
Scheduled Peter to undergo a Functional Capacity Evaluation ("FCE") immediately;
Thoroughly prepared Peter for the FCE;
Obtained and reviewed the FCE to ensure it was supportive;
Obtained a statement from Peter's treating physician which commented on the FCE and confirmed Peter's ongoing disability;
Submitted the FCE and treating physician statement to the insurance company; and
Demanded the insurance company back down from rescheduling the IME.
The strategy was successful – the insurance company quickly backed down and continued paying Peter his monthly benefit. Relieved and thankful for the firm's assistance, Peter retained Riemer Hess to continue monitoring his disability insurance benefits.
Disability insurance claims can be confusing and complicated – even after your claim is approved. Our lawyers are here to help and assist you with monitoring your disability insurance benefits.
Riemer Hess can assess your situation, explain your legal rights and options, and answer any questions you have about long term disability insurance. To schedule your free consultation, call Riemer Hess today at 212-297-0700 or select the button below.