When you're dealing with a serious illness or injury, the denial of your long term disability claim feels like adding insult to injury. You can't return to work, and now you must figure out how to submit an appeal to the insurance company.
We understand. You need someone who can advocate for you, help navigate the complex appeals process, and protect your rights.
Riemer Hess has been helping disabled professionals and executive clients win their long term disability appeals for over 25 years. We represent claimants in all disability insurance appeals, whether it be a denial of your disability insurance claim or termination of previously approved benefits. Our practice area includes both ERISA and non-ERISA cases.
How Riemer Hess Can Help
At Riemer Hess, our New York disability attorneys will listen to your concerns, review the evidence in the record, and develop an individualized strategy to win your appeal. We then will submit the strongest appeal possible on your behalf rebutting all the reasons for the insurer's denial.
Our strategy is designed to:
Reduce your stress level;

Change the claim dynamic;

Ensure you have strong, objective evidence to support your appeal;

Address and rebut all the reasons for the insurer's denial; and

Maximize your chances of approval.
Our tested approach has helped hundreds of disabled professionals and executives in the New York City metropolitan area.
How Our Strategy Works
When our disability attorneys prepare your appeal, we make sure the insurance company takes your case seriously. Every justification your insurance company used to cut off your benefits is addressed and refuted with strong, objective evidence. Our strategy substantially increases your chances of approval by the insurance company.
Riemer Hess will help you file your appeal by:
Obtaining, organizing, and reviewing your medical records;

Recommending further testing to increase supportive evidence of your restrictions and limitations;

Coordinating with your doctor to prepare a statement supporting your condition and responding to any medical reports from the insurance company's doctors;

Obtaining witness statements from family or former co-workers;
Helping you prepare an affidavit about your disability;
Handling all communications with necessary parties, including the insurer; and
Filing a detailed and well-supported appeal letter on your behalf.
Since long term disability insurance claims and appeals are our sole area of practice, Riemer Hess is well-versed in the appeals process and what it takes to file a successful appeal. Our attorneys know exactly what is needed to reverse your insurance company's decision.
Should you appeal on your own and face a second denial, your only option may be costly and difficult litigation. You have one chance to appeal your denial – you don't want to squander it. You want Riemer Hess on your side.
Below is an example of a client who retained Riemer Hess to fight their denied disability claim.
Client Case Study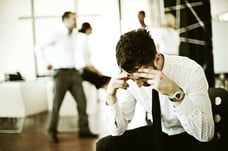 Patrick is a highly successful 55-year-old sales vice president for a major pharmaceutical company. Unfortunately, he suffered a serious car accident at the height of his career that left him with progressively worsening back and knee pain.
Over the next few months, Patrick struggled more and more at work as his pain progressed. Traveling for work and sitting at his desk for long periods of time became impossible. By the end of the workday, Patrick was in severe pain and completely drained of energy.
Patrick knew he had to leave work and file a long term disability claim. To his surprise, his claim was denied.
At this point, Patrick made the smart decision to hire a long term disability attorney. Recognizing how high the stakes were, he contacted Riemer Hess.
After carefully reviewing Patrick's policy and denial letter, Riemer Hess met with Patrick to learn more about his situation. The biggest obstacles they identified included lack of recent medical evidence and a damaging report from one of the insurance company's so-called "independent" doctors.
Riemer Hess immediately sprang into action by developing a personalized plan to file a strong appeal for Patrick. Knowing that evidence was key, Riemer Hess went above and beyond to obtain everything Patrick needed.
First, Riemer Hess referred Patrick to a qualified physical therapist to perform a functional capacity evaluation. When the results were ready, Riemer Hess carefully reviewed the report to ensure it was as supportive as possible.
Riemer Hess then gathered all of Patrick's relevant medical records, including updated MRIs.
With the guidance of Riemer Hess, Patrick's orthopedist provided a written response to the insurance company's "independent" doctor that: (1) attacked the insurance doctor's credentials and reliability; (2) pointed out inconsistencies in the insurance doctor's report; and (3) provided a detailed assessment of Patrick's restrictions and limitations while referencing the new functional capacity evaluation and updated MRIs. Riemer Hess carefully reviewed the written response to ensure it thoroughly addressed the insurance company's concerns.
Next, Riemer Hess helped Patrick prepare an affidavit that explained the progressive nature of his pain and how it prevents him from working. The affidavit supplemented the basic information Patrick previously provided on his claim forms – thus, giving Patrick the opportunity to explain his side of the story.
Once Riemer Hess had strengthened Patrick's appeal with as much supportive evidence as possible, the firm prepared a detailed appeal letter that summarized the supportive evidence and addressed the insurance company's concerns and errors.
Finally, Riemer Hess filed the appeal on Patrick's behalf and continued to follow-up on the insurance company's review. After a few weeks, Riemer Hess learned the insurance company had sent Patrick's file to a new "independent" doctor for review.
Riemer Hess immediately demanded a copy of the report and the opportunity to respond. The insurance company obliged. After helping Patrick's orthopedist to prepare a second response, Riemer Hess continued to follow-up with the insurance company about status.
A few short weeks later, Patrick's appeal was approved. His benefits were paid immediately.
Patrick felt so relieved – he couldn't imagine going through this process without guidance or help. He even decided to hire Riemer Hess to protect his ongoing benefits going forward.
You shouldn't have to navigate the complex appeals process alone when the stakes are so high. At Riemer Hess, we have spent decades successfully appealing wrongful disability claim denials. Our attorneys can help you win the disability benefits you deserve.
Riemer Hess can assess your situation, explain your legal rights and options, and answer any questions you have about long term disability insurance. To schedule your consultation, call Riemer Hess today at 212-297-0700 or select the button below.