Our top NYC disability attorneys win 85% of their appeals nationwide.
You have enough on your plate. When you're dealing with a disabling illness or injury, the last thing you want to worry about is the outcome of your long term disability appeal. You need someone who can aggressively advocate on your behalf, navigate you through the complex appeal process, and adamantly protect your rights.
Riemer Hess, headquartered in New York City, has been helping professionals and executives win their long term disability appeals nationwide for over 25 years. We pride ourselves on providing a comprehensive approach that tailors to the needs of each client and gets results.
Our professional and executive clients expect the best, and we deliver. We win 85% of the appeals that we file nationwide.
Our 5-star approach to appeals wins.
Our experienced ERISA disability attorneys are passionate about holding the insurers accountable. Our team will work closely with you to understand the specific details of your claim and develop a personalized 5-star strategy designed to win your appeal. With our thorough understanding of the complex legal landscape surrounding long term disability appeals, we are confident in our ability to maximize your chances of success.
Each of our team members is completely client-focused and deeply committed to our firm values of providing excellent client service, empathy, and respect throughout the appeals process. To us, our clients are never just a claim number. They are people who have trusted us to do our best and guide them through an incredibility difficult time. We appreciate and take that trust very seriously – striving to always deliver the best possible outcome while reducing our clients' stress along the way.
Just read our 5-star reviews. Our proven approach and commitment to holding disability insurers accountable have helped hundreds of disabled professionals and executives win appeals throughout the nation.
How our proven strategy works.
When our ERISA disability attorneys prepare your appeal, we make sure the insurance company takes your case seriously. Every justification your insurance company used to deny your benefits is addressed and refuted with strong, objective evidence. Our strategy substantially increases your chances of approval by the insurance company.
Riemer Hess will help you file your appeal by:
Obtaining, organizing, and reviewing your medical records;

Recommending further testing to increase supportive evidence of your restrictions and limitations;

Coordinating with your doctor to prepare a statement supporting your condition and responding to any medical reports from the insurance company's doctors;

Obtaining witness statements from family or former co-workers;
Helping you prepare an affidavit about your disability;
Handling all communications with necessary parties, including the insurer; and
Filing a detailed and well-supported appeal letter on your behalf.



As long term disability insurance claims, appeals, and litigation are our sole areas of practice, we are well-versed in the appeals process and know what it takes to file a successful appeal. Our attorneys know exactly what is needed to reverse your insurance company's decision.
Appealing on your own may result in a second denial, leaving you with costly and difficult litigation as your only option. You generally only have one chance to appeal your denial, and you don't want to squander it. With Riemer Hess on your side, you can trust that we will fight for your rights and the results you deserve.
Watch: More About Our Appeal Approach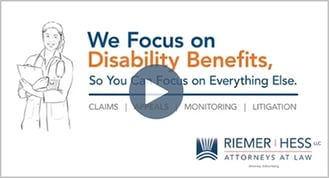 Read: Long Term Disability Appeal Case Study
Patrick, a highly successful sales VP for a pharmaceutical company, had his career come to a grinding halt following a severe car accident. As his back and knee pain worsened over time, it became impossible for him to travel and sit for long periods of time – leaving him drained of energy and struggling to complete his workday.
After being denied long term disability benefits, Patrick decided to hire Riemer Hess to fight for his rights on appeal. Our team of experienced NYC attorneys reviewed Patrick's policy and denial letter, identified the obstacles, and developed a personalized plan to file the strongest possible appeal.
We knew that the key to success was in the evidence. Riemer Hess referred Patrick to a qualified physical therapist to perform a functional capacity evaluation and reviewed the report to ensure it was supportive. We also obtained and carefully reviewed updated MRIs and all of Patrick's relevant medical records – recommending additional helpful testing where appropriate.
With our guidance, Patrick's orthopedist provided a detailed response to the insurance company's so-called "independent" doctor – attacking the doctor's credentials and highlighting inconsistencies/errors in the report. We also helped Patrick prepare an affidavit that explained the progressive nature of his pain and how it prevents him from working.
With all the supportive evidence in hand, we filed a detailed appeal letter that addressed the insurance company's concerns and errors. We followed up with the insurance company regularly and even demanded a copy of the report from a new "independent" doctor that the company had sent Patrick's file for review.
In the end, our efforts paid off. Patrick's appeal was approved and his benefits were paid immediately. Patrick felt relieved and grateful for our guidance and decided to hire Riemer Hess to protect his ongoing benefits.
Call today to help win your appeal
At Riemer Hess, we appreciate that filing a long term disability claim and appealing a denial can be an overwhelming and frustrating process. That's why we're here to provide tailored guidance and a comprehensive approach to help you achieve the best possible outcome.
Riemer Hess can assess your situation, explain your legal rights and options, and answer any questions you have about a possible long term disability insurance appeal. To schedule your consultation, call Riemer Hess today at 212-297-0700 or select the button below.