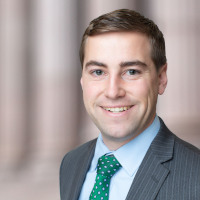 275 Madison Avenue
26th Floor
New York, New York 10016


Phone: 212.297.0700 Ext. 105
Fax: 212.297.0730
How I Help Our Clients
I take great pride in putting in the hard work to secure tangible results for my clients. I am diligent in developing the strongest possible evidence in support of the case. I also craft a clear strategy to handle any potential defenses or tactics used by opposing counsel and insurance companies. This work is rewarding because I get to ensure my clients receive top notch legal representation and help them secure the best possible outcome under the circumstances.
My Background
I graduated from Cornell University with a B.S. in Industrial and Labor Relations in 2013. I was a member of the Cornell Varsity Lightweight Rowing Team. Upon graduation, I attended Wake Forest School of Law where I was elected Chief Justice of the Moot Court Board. I graduated with a J.D. from Wake Forest in 2016 and was admitted to practice law in North Carolina later that year.

I began my legal career at a boutique civil litigation firm in Charlotte, North Carolina. In this role, I gained hands on experience in all facets of the litigation process including initial filings, arguing motions, crafting discovery strategies, trying cases, and negotiating settlements.

In 2019, I was admitted to the New York Bar and began advocating on behalf of disabled clients throughout the New York Metropolitan Region. My practice initially focused on Social Security Disability Insurance Appeals. I represented clients at over 150 hearings before Social Security Administrative Law Judges, obtaining favorable outcomes in over 90% of these cases. I also represented numerous municipal employees in their disability pension litigation cases.
My Current Practice
I joined Riemer Hess in 2021. Since joining the Firm, my practice has involved all aspects of the long-term disability insurance process including crafting initial exit strategies, filing initial claims, monitoring cases to secure ongoing benefits, and appealing unfavorable decisions.
Publications & Presentations
I have written and presented many times on ERISA-related topics.
Articles:
"What Every Employment Attorney Advising Individuals Should Know About Long-Term Disability"

for the New York State Bar Association's (NYSBA) Labor and Employment Law Journal
Continuing Legal Education (CLE) Courses and Presentations:
I have taught CLE courses on Lawline.com, including:
Hobbies and Interests
I'm an avid runner. I've been competing in local 5K and 10K races for most of my life. In 2020, I completed my first virtual marathon, running more than 6 full laps of Roosevelt Island. In 2021, when in person racing finally returned, I ran the New York City Marathon. I'm looking forward to competing in other marathons and trail races in the future.

Growing up on Long Island, I spent a lot of time at the beach. I was an ocean lifeguard for 7 years, surfing and spearfishing on most of my days off. Today, I still go to the ocean as much as possible.
Contact our New York Disability Lawyers
If you are in need of a lawyer to represent you or if you have any questions regarding a case, contact our New York Disability Lawyers. Call us at 212-297-0700.