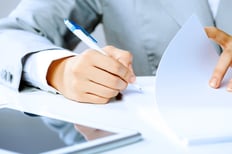 Dealing with insurance companies can be an uphill battle. Reliance Standard, one of the leading disability insurers in the U.S., is no exception. Reliance Standard is a subsidiary of Delphi Financial Group, LLC, which is in turn a subsidiary of Tokio Marine Group, one of the world's largest insurance companies. Reliance Standard and its sister companies, including Matrix Absence Management and First Reliance Standard, administer millions of disability insurance claims for their policyholders – many of which result in denials.
Riemer Hess has helped countless clients secure long term disability benefits from Reliance Standard, Matrix Absence Management, and First Reliance Standard. Many of our clients come to us after Reliance Standard has wrongfully denied or terminated their long term disability claims.
Below we'll explore the common tactics employed by Reliance Standard to deny disability claims and effective strategies you can use to secure your rightful benefits.
What common tactics does Reliance Standard use to deny disability claims?
As a private company, Reliance Standard is incentivized to deny or terminate disability benefits to claimants in order to increase their bottom line. See Metro. Life Ins. Co. v. Glenn, 554 U.S. 105, 115 (2008). They often utilize certain tactics to deny long term disability claims and avoid paying out benefits.
In our experience, commons tactics used by Reliance Standard may include:
What happens if Reliance Standard denies my disability claim?
Receiving a denial from First Reliance Standard can be disheartening, but there are options for appeal. If your long term disability claim falls under the Employee Retirement Income Security Act ("ERISA"), you have the right to an internal appeals process. This process allows you to address First Reliance Standard's justifications for denial and submit additional supporting evidence.
Here are a few steps you can take when receiving a long term disability denial from Reliance Standard:
Have courts criticized Reliance Standard's disability claims handling practices?
If you find yourself facing a wrongful denial from Reliance Standard, know that you are not alone. Courts across the country have scrutinized Reliance Standard's disability claims handling practices, shedding light on the insurer's questionable tactics.
Examples of courts criticizing Reliance Standard's disability claims handling practices include:
What strategies work best against Reliance Standard?
Riemer Hess has helped hundreds of clients secure their disability benefits from Reliance Standard (and its sister companies Matrix Absence Management and First Reliance Standard). We understand what it takes to get Reliance Standard to approve your long term disability claim and how to fight back against the tactics they commonly use to deny paying benefits.
For example, our client Carly suffered a serious accident that led to a traumatic brain injury ("TBI"), which continued to cause her severe and continuing physical and cognitive symptoms even after her immediate acute recovery period. When Carly filed for long term disability with Matrix Absence Management (a sister company of Reliance Standard), she was stunned to receive a denial letter. Matrix denied her claim by alleging that her condition was related to unrelated mental health illnesses and did not preclude her from working. In making this decision, Matrix relied on paper reviewers who never examined Carly in person. Matrix did not even mention the devastating TBI she had experienced in their denial letter.
With so much at stake, Carly hired Riemer Hess to file the appeal on her behalf. Riemer Hess quickly got to work. First, Riemer Hess arranged for Carly to undergo a two-day neuropsychological evaluation with a trusted neuropsychologist, knowing the results would objectively detail her cognitive deficits and impairments. Riemer Hess also obtained all of Carly's medical records from her treating doctors that had not been previously submitted to Matrix with the initial claim application.
To ensure that Matrix would be provided the full scope of evidence, Riemer Hess submitted a written personal statement from Carly, photos of her injury from the time of the accident, and medical literature that validated her condition and symptoms.
All of the new evidence was submitted with a thorough, comprehensive appeal letter that refuted Matrix's reasons for denial in detail and argued that the paper reviewers' opinions were unreliable. After reviewing the newly submitted evidence and appeal letter, Matrix reversed its decision and awarded Carly benefits. Carly chose to retain Riemer Hess to continue protecting her ongoing long term disability claim with Matrix.
How can an attorney help me win disability benefits from Reliance Standard?
When dealing with Reliance Standard, it's important to be aware of their common denial tactics and how to counter them effectively. An ERISA attorney can help you navigate the claims, appeals, and/or litigation process and fight for your rightful long term disability benefits.
At Riemer Hess, our attorneys have the necessary experience to fight against Reliance Standard and help you overcome any common pitfalls. We are dedicated to maximizing your chances of receiving the long term disability benefits you are entitled to. If you are filing, appealing, or litigating a long term disability claim from Reliance Standard, call Riemer Hess today at 212-297-0700 or select the button below to schedule a consultation.