Can I Get Long Term Disability For A Traumatic Brain Injury (TBI)?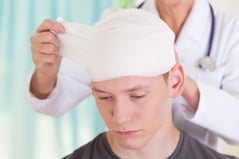 Yes, you can receive long term disability benefits for a traumatic brain injury ("TBI"). A TBI is a serious and life-changing injury caused by a sudden blow to the head that damages the brain. Suffering a TBI can lead to physical and/or cognitive difficulties requiring intense rehabilitative care. Even with intensive treatment, a traumatic brain injury may cause residual symptoms severe enough to cause a permanent disability.
If you've suffered a TBI, you may find it impossible to continue working due to your condition. In that case, you may consider filing a long term disability insurance claim. It's important to know beforehand what steps you should take to ensure your best chances of disability claim approval.
Here are the key tips you need to know before filing your traumatic brain injury long term disability insurance claim.