Figuring out how and when to leave work for long term disability is a difficult decision. When you've worked hard to build a career, the idea of leaving it all behind and facing financial insecurity is unthinkable.
With so much on the line, taking those first steps can be overwhelming. Thankfully, you don't have to go it alone.
Riemer Hess, a firm of New York ERISA and long term disability attorneys, has been helping disabled professionals and executives plan successful exits from work for over 25 years. Our 95% success rate is due to our extensive knowledge of the particular problems disabled professionals and executives face when leaving work. Our disability lawyers will tackle your unique case with our proven strategy.
How Riemer Hess Can Help
When you hire Riemer Hess, we'll be with you every step of the way. Long term disability insurance is our sole area of practice. We know exactly how to bypass an insurance company's roadblocks and protect your financial future.
The first step will be a consultation with our attorneys. To achieve your goals, we need to understand your unique situation. We take the time to speak with you and clearly understand your medical conditions, symptoms, and situation at work. That way we can tailor an individual plan that works best for you. Once we fully understand your circumstances and your goals, we'll implement our time-tested strategy for exiting work safely, smoothly, and with dignity.
Our strategy is designed to:
Reduce your stress level;

Ensure you leave work safely and with dignity;

Help you avoid common traps and pitfalls; and

Protect your entitlement to critical disability income.
Your exit from work must be timed correctly to ensure you receive the disability benefits you deserve. A rushed exit could mean filing for benefits before you have sufficient evidence to support your claim. On the other hand, waiting too long to leave work increases your risk of being terminated – and risking your right to file for benefits at all. Riemer Hess can help you plan an exit from work that protects your right to benefits and ensures you have what you need to successfully file a disability claim.
How Our Strategy Works
At Riemer Hess, we help plan your exit from work by:
Carefully reviewing your insurance policy to understand its terms;

Obtaining and reviewing medical records;

Recommending further testing if needed;

Coordinating with your doctors to confirm their support for your disability; and

Making sure you have strong medical evidence to support your disability application

.
Our strategy has protected thousands of disabled professionals and executives in the NYC metropolitan area. Having a disability attorney help you from the beginning can make all the difference.
Client Case Study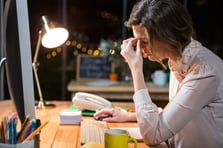 Patricia, a 54-year-old vice president of engineering at a major communications company, was recently diagnosed with a neurodegenerative condition called "Multiple System Atrophy." She began to experience progressively worsening visual and cognitive problems.
As her symptoms progressed, Patricia realized it was time to start thinking about long term disability. Unsure of where to start, she contacted Riemer Hess.
With the help of Riemer Hess, Patricia discretely obtained a copy of her long term disability policy from her employer. Riemer Hess met with Patricia to learn more about her situation and understand her personal goals.
Riemer Hess learned that Patricia's company planned to perform layoffs over the next few months, and that Patricia's doctors had been more concerned about her visual problems than her cognitive problems. As a result, Patricia had treated with many eye specialists, but no cognitive specialists yet.
Riemer Hess immediately sprang into action by developing a personalized plan to protect Patricia while she exited work.
After obtaining Patricia's medical records and confirming her doctor was supportive of her disability, Riemer Hess helped Patricia undergo cognitive testing with a qualified neuropsychologist. When the results were ready, Riemer Hess carefully reviewed the neuropsychological report to ensure it was complete and supportive.
When the time was right, Riemer Hess instructed Patricia to call in sick to work and see her doctor. With the assistance of Riemer Hess, Patricia's doctor provided a letter stating she could no longer work due to her condition. Riemer Hess immediately provided the letter to Patricia's employer.
Patricia's employer was planning to fire her the very next day – which would have meant she could not claim disability insurance benefits. Thankfully, Patricia was protected.
When Riemer Hess filed Patricia's disability claim, the insurance company approved it within a few short weeks. Patricia was able to rest easy knowing her future was in good hands.
Riemer Hess can assess your situation, explain your legal rights and options, and answer any questions you have about long term disability insurance. To schedule your consultation, call Riemer Hess today at 212-297-0700 or click the button below.