The disability attorneys at Riemer & Associates have handled the long term disability needs of many physicians and surgeons.
Examples of common disability issues that our firm has handled for our clients include: musculoskeletal injuries to the cervical/lumbar spine and lower extremities precluding the ability to walk or stand for prolonged periods; cardiovascular diseases precluding the ability to work in stressful work environments; autoimmune diseases causing cognitive deficits, fatigue, and systemic pain limiting the ability to maintain attention/concentration, process information efficiently, or work a full day; mental illnesses and associated cognitive deficits precluding the ability to work in environments requiring quick-decision making and processing of information.
Occupational Duties of Physicians and Surgeons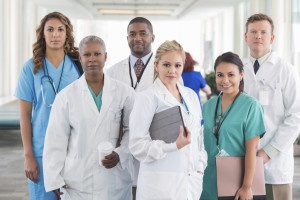 The occupations of physician and surgeon are identified as light occupations by the Dictionary of Occupational Titles (4th ed.) ("DOT") published by the U.S. Department of Labor. Light occupations require a significant amount of standing/walking.
The DOT describes the occupation of physician under many codes depending on the specialty. An index is available here. The description of family physician (CODE: 070.101-026) details the following requirements, which are typical of all physicians, regardless of specialty: examines patients, using medical instruments and equipment; elicits and records information about patient's medical history; orders or executes various tests, analyses, and diagnostic images to provide information on patient's condition; analyzes reports and findings of tests and examination, and diagnoses condition of patient; administers or prescribes treatments and medications.
The description of surgeon (CODE: 070.101-094) lists these occupational requirements: performs surgery to correct deformities, repair injuries, prevent diseases, and improve function in patients; examines patient to verify necessity of operation, estimate possible risk to patient, and determine best operational procedure; reviews reports of patient's general physical condition, reactions to medications, and medical history; examines instruments, equipment, and surgical setup to ensure that antiseptic and aseptic methods have been followed; performs operations, using variety of surgical instruments and employing established surgical techniques appropriate for specific procedures.
Additional descriptions of the occupational requirements of physicians and surgeons are available from the Occupational Information Network ("O*NET"), an on-line database developed under the sponsorship of the DOL. Like the DOT, O*Net provides separate descriptions for each medical specialty. You can see an index here.
Disability Challenges of the Occupation
Insurers focus heavily on the exertional requirements of the occupation, particularly the stand/walk requirement. While standing/walking are certainly significant requirements, focusing only on those does not fully assess other significant requirements that may prevent you from working. The disability insurance attorneys at Riemer & Associates, therefore, educate the insurers regarding the critical occupational demands that are often overlooked, such as long and irregular hours, high stress, and high cognitive demands.
Medicine is an intellectually and emotionally demanding profession. O*NET details the cognitive skills and abilities required by physicians and surgeons. These include: critical thinking; active listening; judgment and decision making; complex problem solving; and inductive and deductive reasoning.
A physician must be able to speak, hear, and observe patients to elicit information essential for diagnosis and treatment. The ability to develop and maintain relationships with patients, families and other members of the health care team is also required.
Physicians and surgeons often put in a full day at the office and remain on call overnight and on weekends. They may have to leave home in the middle of the night to attend a patient. They may be called on to quickly assess an emergency situation and make a life or death decision.
Surgeons in particular need good near vision, excellent hand eye coordination, steady hands, and manual and finger dexterity. They must be able to comprehend dimensional and spatial relationships. They also need to be capable of bending over a patient, sometimes for extended periods, during surgeries.