Our NYC disability attorneys win 95% of the claims we file for our professional and executive clients.
The decision to file for long term disability is not an easy one. Between leaving a career you worked so hard for and the financial uncertainty, it can be overwhelming – not to mention the confusing and intimidating paperwork involved with filing your disability claim.
Your long term disability insurance application creates the groundwork for your disability claim. One mistake could jeopardize your disability benefits. Getting your initial claim application right will save you time and money.
Riemer Hess, a firm of ERISA and long term disability attorneys based in New York City, has been handling long term disability insurance claims for professionals and executive clients for over 25 years nationwide. We have a 95% success rate with the disability claims we handle.
Our 5-star approach to disability claims gets results.
The attorneys at Riemer Hess will tackle your unique case with a proven approach that bypasses your insurance company's roadblocks and protects your financial future. We pride ourselves on providing a comprehensive approach that ensures each client feels taken care of and advocated for throughout the claim process. Just see our reviews.
When you trust Riemer Hess to file your disability claim, we ensure that:
Our strategy is customized to fit your preferences

– whether you prefer to be involved every step of the way or if you would rather leave it all to us. The client service at Riemer Hess is highly individualized and personal. Our goal is to obtain all of the benefits to which you are entitled. But equally as important, we want to make the process as easy and stress-free for you as possible.

Your legal team is always available for you.

We know communication is key – that's why we make sure our concierge service is here to answer any questions and will keep you informed of all developments in your case. We also maintain a secure personal portal for each of our clients, where you will have 24/7 access to all incoming and outgoing documents.

The insurer has no room to deny your claim.

G

iven that long term disability insurance claims are our sole area of practice, we are well-versed in the claims process for every LTD insurer. We know exactly what documentation is needed to get your claim approved.
How Our Proven Disability Claim Strategy Works
With your input, we'll implement a personalized strategy to file the strongest claim possible on your behalf. Our strategies are designed to ensure you have strong evidence to support your claim, maximize your chances of approval, and reduce your stress levels.
When you work with Riemer Hess to file your disability claim, we:
Formulate a strong

exit strategy

from work;

Communicate with necessary parties (i.e., the insurance company, your doctors, and your HR Department);
Gather, organize, and carefully review your medical records;

Work with your doctors to obtain the best medical support for your claim;

Refer you to appropriate testing to help support your claim;

Help draft your statement in support of disability;

Prepare the insurance company's disability forms;

Thoroughly explain your disability to the insurer;



Attend and prepare you for the insurance company interview;
Prepare you for any insurance company medical examination;
Avoid common traps and pitfalls; and

Ensure that the insurance company obtains the informa

tion it needs in a timely manner while protecting you from insurance company abuse.
Watch: More About Our Approach to Disability Claims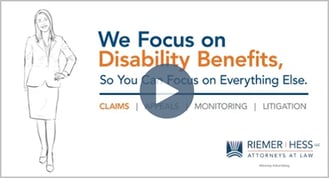 Read: A Long Term Disability Claim Case Study
Pamela is a 44-year-old private equity and venture capital adviser in a prominent New York City firm. Unfortunately, she was struck by Multiple Sclerosis at the height of her career. Soon she began to experience progressively worsening physical and cognitive problems.
Over the next few years, Pamela encountered more and more difficulty at work as her symptoms progressed. Eventually, she realized it was time to go on leave and file a disability claim. Unsure of where to start, she contacted Riemer Hess.
After carefully reviewing her policy, Riemer Hess met with Pamela to learn more about her situation and understand her personal goals. During their meeting, Riemer Hess learned that Pamela's doctors had been more concerned about her physical problems than her cognitive problems. As a result, Pamela had seen many neurological specialists, but no cognitive specialists yet.
Riemer Hess immediately sprang into action by developing a personalized plan to protect Pamela and file the strongest claim possible.
Riemer Hess carefully completed all of the claim forms on Pamela's behalf to ensure all common traps and mistakes were avoided. Next, Riemer Hess got to work gathering supportive evidence.
First, Riemer Hess helped Pamela prepare a statement that explained the progressive nature of her disability and how it prevents her from working. The statement supplemented the basic information provided on the claim forms, giving Pamela the opportunity to fully explain her side of the story.
After reviewing and obtaining all relevant medical records, Riemer Hess referred Pamela to a qualified neuropsychologist to undergo cognitive testing. When the results were ready, Riemer Hess carefully reviewed the report to ensure it was supportive.
Then, Riemer Hess coordinated with Pamela's neurologist to obtain more supportive evidence. With the help of Riemer Hess, Pamela's neurologist provided a statement that: (1) explained the significance of the neuropsychological report; and (2) confirmed that Pamela was disabled from both a physical and cognitive standpoint.
Once Riemer Hess was satisfied that we had made Pamela's case as strong as possible, we filed her claim.
Despite the overwhelming evidence, the insurance company insisted on sending a representative out to interview Pamela in-person. Well aware of the insurance company's abusive tactics, Riemer Hess demanded to be present. Pamela's attorney then thoroughly prepared her for the interview, even asking her mock questions to ensure that she was comfortable. When the time came, Pamela's attorney carefully monitored the interview and objected to several inappropriate questions.
Within a few short weeks, the insurance company approved Pamela's claim thanks to Riemer Hess's guidance and support. Pamela was able to rest easy knowing that her future was in good hands.
Call today to help win your claim
Not being able to work is daunting. There's so much at stake for you and your future. As a result, many people feel overwhelmed by the paperwork and the process.
The initial disability claims process is the ideal time to get help. The intervention of an experienced long term disability attorney at this stage could be instrumental in avoiding many of the pitfalls that can plague a claim from the outset, saving you both time and expenses. Even if your disabled condition seems obvious, without an accurate application and necessary support, your claim can be denied.
Our long term disability lawyers are here to help. Riemer Hess can assess your situation, explain your legal rights and options, and answer any questions you have about long term disability insurance. To schedule your consultation, contact Riemer Hess today at 212-297-0700 or select the button below to schedule your exploratory call.