I have the best job in the world. Almost every day, I am able to help individuals whose livelihood is threatened by disability. I am able to fight the good fight against unscrupulous insurance companies on behalf of the disabled. I have freedom—the type of freedom that is only possible when you own your own business. All of this, while I am passionate about what I do and earn a very nice living. I am truly blessed, I know it, and I will never forget it.
I have always been extremely driven and results oriented. When I was young, my mother often told me I had "infinite patience." Over time, I began to internalize this concept of myself, but eventually I realized my mom was mistaken. In actuality, I am very "impatient." What I have, and what my mother recognized but misunderstood, is grit. When I want something, I am dogged in my pursuit. This quality has served me well in both my life and career.
Blushing
A challenge I have had my whole life has been blushing. I turn deep red when I public speak, when I am emotional and, of course, when I am embarrassed. Sometimes I feel burning hot in my face, and other times I do not even know I am red until someone inevitably says, "Look how red Scott is." I then turn even more red, because then I am embarrassed because I am red. For much of my life, it made me afraid to do certain things, such as public speaking, because I did not want people to see me turn red. For a long time, I avoided a lot of situations because of this fear. I think it made me shy, even though inside I feel like a wolf stuck in sheep's clothing.
My Career Aspirations
By my freshman year in college, I knew I wanted to become a lawyer. I didn't want to be shy my whole life and knew I had to challenge myself to do things even though I knew it would put me into situations that would make me turn red. After deciding to become a lawyer, I knew I wanted to attend a top-rated law school. In order to do so, I had to differentiate myself from the thousands of other qualified candidates. I needed more than just high grades and top LSAT scores. With the arrogance of youth, I convinced myself a top law school would admit me if I did something extraordinary, such as publish a book. Ignoring the naysaying of all the skeptics, I followed my dream and did just that.
My Book
Along with another student, who was as gregarious as I was shy (we, therefore, made a great team), we spent countless hours researching and compiling an extensive reference book, titled, "Multinational Corporations Law: Bibliography of Multinational Corporations and Foreign Direct Investment." The book was published in 1978 by Oceana Publications, a prominent publisher of books on international relations.
Knowing the book would have more impact if they saw it, I sent a copy of the book (668 pages) to each law school along with my law school application. In contrast to other applicants, my application was 4 inches thick, and could not be confused with the other applications. I was admitted to 6 top law schools.
I chose The University of Michigan Law School because it had a stellar reputation and a Gothic campus that reminded me of Oxford University. When I was admitted, I literally felt like I had won the lottery. Even better, not only did the book get me into a top law school, it sold thousands of copies, helping me pay for law school.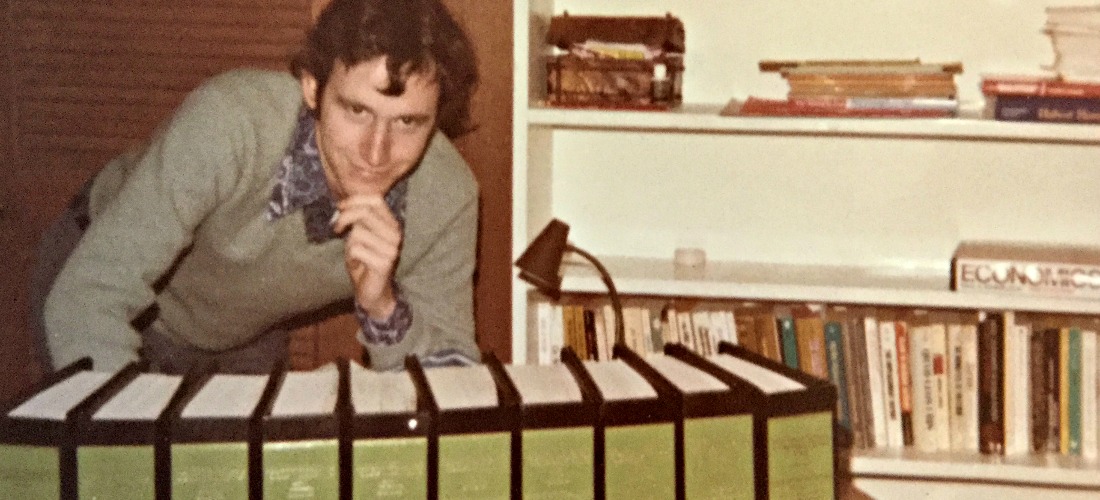 Photo of a proud 20-year-old Scott, just prior to shipping his books to the various law schools.
Career as a Lawyer
Although I was quick to become a lawyer, I needed 10 years of searching to find my legal niche and passion. I started out at a small general practice law firm on Wall Street, named Gould & Wilkie. At Gould & Wilkie, I was exposed to several areas of the law, including litigation. From the very beginning, I liked litigation. I loved the stakes involved, the strategy, and the fact there was a resolution. Of course, I also found it very frightening because it required a lot of public speaking. I was constantly afraid of turning red.
After a number of months, I was called into a partner's office, who asked me "Have you ever seen the movie, The Graduate?" After I told him yes, the partner said, then I have only one word for you, "Pensions" (instead of the famous line, "Plastics"). He then said Pensions were the single most important area of the law. It was with that one word, entirely by happenstance, I found myself thrown into the world of ERISA.
The partner was right. Pension law under ERISA was hot. It was the mid-1980s. I found myself recruited by several large firms, before deciding on Patterson, Belknap, Webb & Tyler. Patterson had the largest pension law department in the country with approximately 25 lawyers in the department. At Patterson, I earned more money, and learned a lot about ERISA, but deep down I knew that structuring the pension plans of corporations did not fit into my self-image and life's goals.
It was not just the money and prestige of working at a big firm that first appealed to me about pension law, it was the fact it did not subject me to constant situations where I would turn red. It was a nice way to avoid blushing, while earning a nice salary. I did it for about five years, but ultimately I just could not get passionate about the work. I also felt like a coward doing work I did not enjoy in order to avoid my nemesis--turning red.
Although I was now aged 30 with a wife, a child, and a mortgage, I left Patterson and the world of ERISA. Despite my issues of turning red, I landed a job as a litigation associate at the small law firm, Schoeman, Marsh, Updike & Welt. I took a 30% pay cut, but was much happier being a litigator, rather than a corporate ERISA lawyer. I was at Schoeman for five years. During those years, I gained valuable litigation experience defending personal injury claims filed against the New York City Housing Authority, fighting on the front lines at the Bronx and Brooklyn Courthouses. I also turned red a lot, and I mean a lot. But, no one seemed to mind, other than myself. I gradually felt more comfortable public speaking even though I knew that I would turn red.
As luck would have it, I read an article in the New York Times documenting how there was a shortage of lawyers who could litigate ERISA cases. Seeing I could combine my ERISA experience with litigation, and fill a desperate need in the legal marketplace, I knew I had found my niche. I was driven. I again felt the adrenaline rush I felt when I wrote my book.
I began planning. I started to bring in my own long term disability cases into the firm. Representing and helping individuals who were going through the life crisis of disability was incredibly fulfilling, intellectually stimulating, and financially rewarding. Perhaps, most importantly, I was really good at it. My calming, trusting, and competent demeanor was exactly what most disabled individuals wanted and needed in their disability attorney. I was happy; my clients were happy; it was a perfect match. Again, no one seemed to mind I turned red.
When the disability cases became numerous enough, I, at age 35, took another huge risk, even though I now had two children. I decided I wanted to be in control of my own destiny. To supplement our family income, my wife went back to work, and I started my own law firm, Riemer & Associates in 1994. I never looked back. Riemer Hess, with its offices in New York City, has become a national leader in long term disability claims, appeals, and litigation.
I still turn red, but not as often. I will never get over the embarrassment of it, but I have learned to work through it. I am proud of being a litigator and not letting my fears stop me from being one.
My Personal Life
I grew up in Massapequa, New York. My father was an elementary school principal and my mother was an artist. I was one of three children. My parents divorced when I was 17, which brought my childhood to a sudden end. I think my experience with divorce and the breakup of my family of origin has influenced me a lot, making me more empathetic and more valuing of relationships.
The divorce made me and my siblings closer, at least emotionally. My older sister, Claudia, is now a publishing consultant living in Boulder Colorado and my younger brother, David, works in finance in Dallas. My mother passed away at age 78, but my father is still alive and kicking at age 96. He comes to my office every other week or so and he treats me to lunch. For everybody else in my life, I buy.
I have been married to my wife Fran for over 30 years. On our first date, which was on an ice rink (we were like Rocky and Adrienne in the movie Rocky), we pulled over to the side. When our eyes met, and I looked into her beautiful green eyes, I knew I would marry her. Luckily for me, Fran went home that day and told her roommate that she had the uneasy feeling she had just met the man she was going to marry. We did, 18 months later. Fran also is originally from Massapequa, New York, although we did not meet until later. We now live in Larchmont, New York. We have two children, both of whom live in New York City. Matthew, who is now 31, works at IBM in artificial intelligence research and is pursuing a Ph.D in the field. He has an engineering degree from Cornell University. Matt recently married his high school sweetheart, Anna. Our younger son is named Robert. He is now 25. He graduated from the Film School at New York University. He has moved to Los Angeles to make it in the movie business. One of my biggest joys is playing golf with my sons. Anna's dad Seth, now is the fourth in our foursome.
I am an avid reader. I view the time spent commuting to New York City as my sacred time which I devote to reading about religion, philosophy, and history. Over the past 30 years commuting on the train, I have read many hundreds of books on these topics.
I love to travel, particularly to Italy. I am a die hard fan of Michigan Football—Go Blue! I am a movie buff. My favorite movies are Casablanca, Mr. Smith Goes to Washington, and It's a Wonderful Life. (One day I will add one of my son's movies to this list). I look forward to our yearly vacation in Montauk on the tip of Long Island with our extended family.
The reading, the golf, and my dedication to what I do for my clients continues.