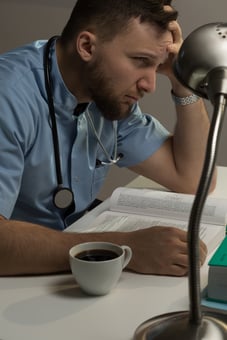 Are you mentally exhausted from the never-ending flow of COVID patients? Have you seen more death and suffering than you can even think about? Are you frustrated, angry, unmotivated, and feeling helpless? You're definitely burned out, but are you disabled?
Since the COVID-19 pandemic began, an unprecedented number of physicians are reporting mental health conditions ranging from anxiety and depression to post-traumatic stress disorder. In a recent study published in The Lancet, researchers from the American Medical Association and Hennepin Healthcare surveyed 21,000 U.S. healthcare workers, nearly 3,000 of whom were physicians. Almost a third (29.9%) of doctors reported experiencing high stress. Nearly half (47.7%) reported symptoms of burnout; more than a third (37.3%) said they felt overloaded with work.
As a doctor, you're used to seeing your patients apply for disability benefits, but the process can seem entirely foreign when it's your own claim. Is burnout a covered disability? Where do you start when you need to file a long term disability claim?
It's a complicated process. Here's what you need to know.
As a doctor, can I file a long term disability claim for burnout?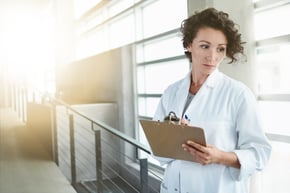 It is difficult, but possible, to successfully win long term disability benefits for burnout. However, there are important issues to consider before you file a claim.
First, it's significant to note that "burnout syndrome" has only been recently recognized as a legitimate medical condition by the World Health Organization. Meanwhile, the Diagnostic and Statistical Manual of Mental Disorders (more commonly known as the "DSM–5") does not recognize "burnout" as an official diagnosis at all. Medical providers in the U.S. generally rely on the DSM-5 for diagnostic purposes. Insurance companies also refer to the DSM-5 when scrutinizing disability claims.
If you file for long term disability claiming solely "burnout," your insurance company will likely be skeptical. They often assume you are just stressed, unhappy with your employer, or looking for an easy exit from your job. Since burnout is not a medically recognized diagnosis by the DSM-5's standards, it is easy for your insurance company to delegitimize your condition and argue you are not actually disabled.
This doesn't mean you are not entitled to long term disability benefits. Consider that burnout can be more of a symptom than a diagnosis. Your feelings of burnout may be underlying another mental health diagnosis such as post-traumatic stress disorder (PTSD), clinical depression, or an anxiety disorder. This is especially true if your mental health suffered as a direct result of working through the pandemic. Both PTSD and anxiety disorders are mental health conditions recognized by insurance companies as potentially disabling diagnoses.
The outcome of your disability claim depends on your specific insurance policy, your medical evidence, and how you frame your response to the insurer's questions.
Most physicians have long term disability coverage through a private insurer. Typically, these policies are either provided by your employer (a group policy) or purchased for yourself (an individual policy). Both types of policies generally cover mental health conditions.
Private insurers are usually required to pay disability benefits if the insured cannot perform the "substantial and material duties" of their job. So, if your burnout results in a mental health condition preventing you from practicing medicine safely, you should be able to collect long term disability benefits. Take into account, however, that insurers may limit the length of time for which you can collect disability benefits for mental health conditions. Many policies limit benefits for a mental health disability to 24 months.
What must be shown in order to prove disability?
Proving a mental health condition as a disability presents a number of challenges. In order to receive disability benefits, you must:
Insurers often fail to recognize the true psychological impact of a physician's job. Your insurance company may assume that your "burnout" is just ordinary job-related stress instead of a true medical condition.
This is likely what's happening if your insurance company starts asking questions about what you didn't like about your job. By shifting the focus from your legitimate mental health symptoms to your overall dissatisfaction with work, they're preparing to deny your claim based on the argument that you just want to leave your practice.
The key to success is to avoid making any missteps throughout the process of filing your long term disability claim for burnout.
How can doctors increase their chances of success with a long term disability claim for burnout?
There are no guarantees with any long term disability claim, but there are a series of steps physicians can take to strengthen their burnout claim.
1. Review the language in your long term disability insurance policy
Most long term disability insurance policies limit the amount of time benefits are paid out for a mental health condition compared to a physical illness. Typically, policies limit benefits to 24 months, but it varies by the policy. You should be aware of this before you file.
It's important to review the terms of your policy first, since they will dictate whether and how you proceed with your treatment and claim.
Insurers tend to write dense, convoluted language that can be used to limit coverage of mental health disability claims. Reviewing your policy with an experienced long term disability lawyer can help you interpret the contractual language and determine whether you have a viable claim.
2. Seek treatment from a qualified mental health professional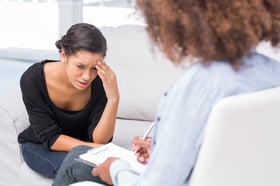 Before filing your claim, you need to verify that you're suffering from a diagnosable condition. Insurers will not cover claims for ordinary practice-related stress and fatigue. That means you need to treat with a qualified provider to document your symptoms and the limitations you're experiencing in your work. Your claim will be much stronger with a more specific diagnosis than burnout.
When vetting providers, make sure you find someone you're comfortable with. This is likely to be a continuing relationship. Your insurer will require you to receive ongoing treatment to qualify for long term disability benefits.
Make sure to report all symptoms to your treating providers. Their notes will help substantiate your disability claim to your insurer. Consider asking your doctor to provide your insurer a letter in support of your burnout-related disability as well. This can go a long way in proving your burnout as a legitimate disability to your insurer.
3. Avoid modifying your job too much
Most long term disability insurance policies will determine your material duties based on your responsibilities immediately before the date of your disability. So, if you find yourself gradually reducing your hours, accepting fewer responsibilities, or taking a leave of absence to cope with your burnout, you may lessen your compensable duties and jeopardize your ability to collect full benefits.
Some policies also require you to meet a certain threshold of weekly hours—usually at least 20 hours per week. If you fall short of that threshold—even because you're struggling with mental health issues due to burnout—the policy may not cover your claim.
4. Expect a thorough investigation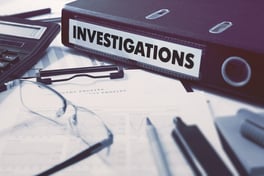 Your insurance company will start investigating your claim as soon as you request the claim form—and the process may be more invasive and disruptive than you'd expect.
If you must call your insurer to request a claim form, be prepared to discuss your claim with the representative immediately. It helps if you've already spoken with an experienced disability lawyer so that you'll know what your policy requires and how you should answer any questions.
Your insurer also may ask you to sign release forms so that they can speak with your healthcare providers to learn more about your condition and your symptoms. They also may investigate further by asking for records of your medical treatment.
Your insurance company may want to meet with you face to face for an interview. They even may go so far as to hire a private investigator to conduct surveillance of you both in person and online. Your insurer will use these tactics to scrutinize – or possibly invent – any discrepancies in your claim.
In cases like these, it's important to have legal representation that can step in when an investigation becomes too aggressive.
How to take the next step to file a long term disability claim for burnout
If you're a healthcare provider suffering from pandemic-related burnout, you may be able to collect long term disability benefits. But the claims process can be long and complex. If your claim isn't precisely correct, you may face a denial and a lengthy, expensive appeals process.
Don't try to go it alone. Our experienced long term disability lawyers can guide you through the complicated, harrowing process of applying for long term disability or appealing a denied claim.
To arrange a consultation with one of our New York long term disability lawyers, click the button below or call us at (212) 297-0700.